Optimized and Automated Client Communications
With built-in email and two-way SMS, you can s
ay goodbye to spreadsheets, sticky notes, and expensive 3rd party email and texting services.

What LoopSpark can do for your business
LoopSpark combines several important communication services into one, sleek tool.
Create targeted automated client journeys to convert prospects to members
Manage your staff with auto-task management
Strengthen staff-client relationships through two-way communications
Strengthen face-to-face conversations with real-time insights
25% of LoopSpark users saw an increase in first attendance show rate
36% of LoopSpark users saw an increase in conversion rate from trial to membership
54% of LoopSpark users saw an increase in revenue year over year
FEATURES
SMS and email
Set up automated emails triggered by specific events like enrolling in a class or purchasing a membership. Create newsletters, event promotion, and any other email messaging you need with built-in templates.
Your business is also assigned a local SMS number to use for mobile messaging.
FEATURES
Task management
Empower your staff to build stronger client relationships with real-time reporting that reminds staff them to connect with their clients around specific events like birthdays, first visit to a class or another class milestone.
LoopSpark is seamlessly integrated with Pike13, so contact and reporting information updated in one platform will reflect in the other.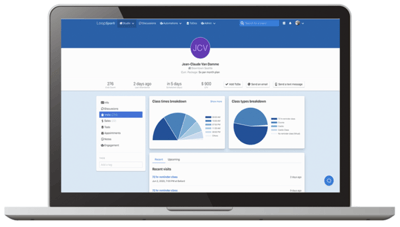 Are there any discounts for Pike13 customers?
Pike13 customers receive $40 off per month for the first three months of billing, in addition to the first month free.
What type of business best benefits from using LoopSpark?
The LoopSpark integration cannot support manager/dependent relationships. For that reason, LoopSpark is best for businesses that serve mostly adults or older kids with digital permissions.
GETTING STARTED
Start using LoopSpark
If you are wanting to upgrade to using LoopSpark or have any questions about LoopSpark, please book a time to speak with an account manager.