INTELIVIDEO
On-Demand and Livestreaming For Your Studio
Use Intelivideo's Video On-Demand and Livestreaming platform to offer premium, on-demand, or live digital fitness content for a unique at-home or on-the-go fitness experience.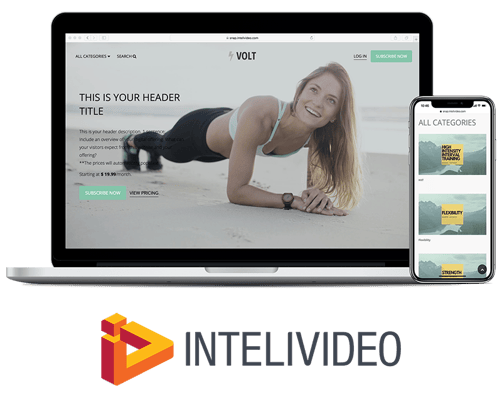 DETAILS
Build a long-term hybrid business
Intelivideo is a digital video platform that enables fitness operators to transform their business into a hybrid model. Looking for just a branded website and a way to upload and categorize your fitness videos? No problem – Intelivideo can handle that.
Do you want iOS, Android, AppleTV, Roku, and Amazon FireTV apps that will allow you to meet your members where they want to exercise? Intelivideo has you covered there too.
Fully branded web presence
Health and fitness feature set
Next steps
An Intelivideo specialist will reach out to you once you submit the form (found at the link below) and they will show you a demo of their platform and answer any questions you have.
If you decide to move forward, the Intelivideo team will be there to walk you through the step-by-step setup process, including:
Submitting Your Business Information
Setting-up Your Storefront
Uploading and Organize Your Workout Video Content
Setting-up Your Terms of Service and Privacy Policy
Pike13 customer support isn't able to assist you with your Intelivideo platform, but we promise the team over there is amazing. They'll take great care of you.