Basically Your Best Friend Email Marketing
Best friends make relationships easy. They cheer you on and show up when times are tough. And that's what Emma does—for your email.
Compatible With: Pike13 PRO Plans
Pike13 Integration? Yes
Separate Subscription Needed? Yes
Learn More: Emma Website
Emma is more than email. It's the belief that email marketing can be personal. And that idea? It's formed by people like you: experts, marketers, and creatives. With Emma HQ, you can share logos, lock templates, and manage distributed teams—turning busy schedules into streamlined branding.
The Pike13 Integration
Use Emma to send stylish email newsletters and promotions. Let your clients know about new classes, special events, promotions, holiday class schedules and more. Mailings can be sent to your entire email list or to a segment of your list.
The Emma integration is available to all Pike13 PRO customers. A separate subscription with Emma is required.
Manage and Organize
The tiered Emma HQ platform includes an approvals dashboard, campaign management, asset and template sharing controls, and multi-account reporting from the activity dashboard.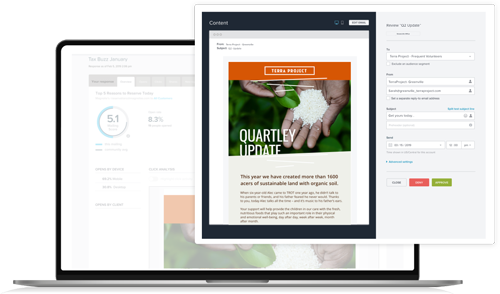 Marketing Automation
Send emails that are personal, relevant, and timely. With Emma's branching logic, whether or not someone opens an email or clicks a link becomes the trigger for the next campaign.
Contact Segmentation

Branch Workflows

Personalization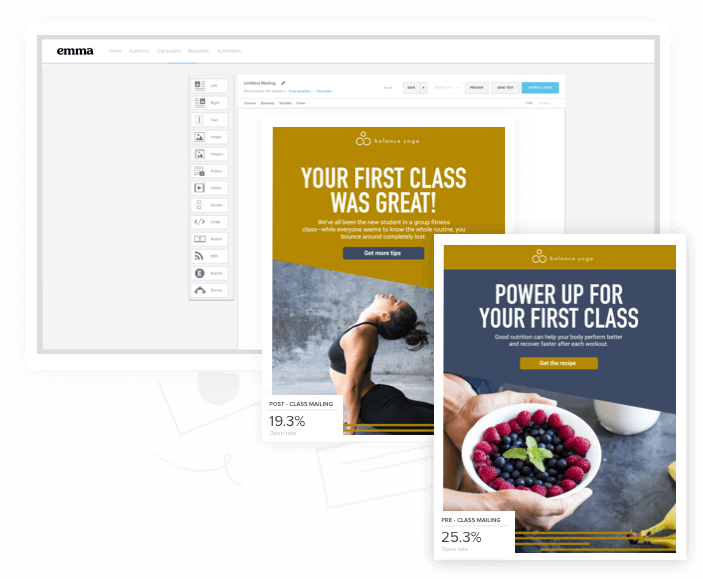 How To Get Started
The integration is available to Pike13 PRO customers. A separate subscription with Emma is also required. See Emma plan details here.
The team at Emma will help you set up your account and configure the Pike13 integration.
Once the apps are connected, you'll find all of your Pike13 clients in a group named "Pike13" in your Emma account. Your client's membership specific information will update with every sync.

Each of these attendance and custom client fields will be mapped to the corresponding member fields in your Emma account, and when synced, you can use them to create segments or set up automatic workflows for your campaigns.