STREAMLINE YOUR FRONT DESK
Effortless Check-Ins with Pike13's Client Kiosk App
Reduce the bottleneck at check-in by using the Client Kiosk App from Pike13. Clients can use the kiosk to check in for services, purchase plans or passes, and manage their profiles.
Using the Kiosk frees your staff up to engage more with clients. The app is free to download onto your tablets.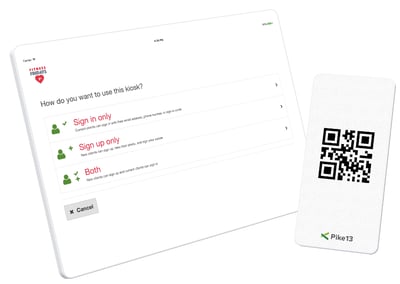 FEATURES
Simplify check-ins with Pike13 Client Kiosk
Give clients a convenient way to check-in for your services. All they need to do is scan a QR code and they're good to go.
They also have the option to sign in using their email address. From there, clients can use the Kiosk to purchase a pass or plan, browse your services, and enroll.
If the client has any unsigned waivers, the Kiosk will prompt them to sign it right there. If there are any other issues with the account, the Kiosk will prompt the client to speak with a staff member.
TIME SAVING FEATURES
Effortless profile management with the Client Kiosk
New clients can use the Kiosk to quickly create a new account with your business. They'll be prompted to enter their information, take an optional photo, sign any waivers, and add payment information.
Existing clients can sign into their accounts through the Kiosk to update their profiles, add photos, or create new accounts for their dependents.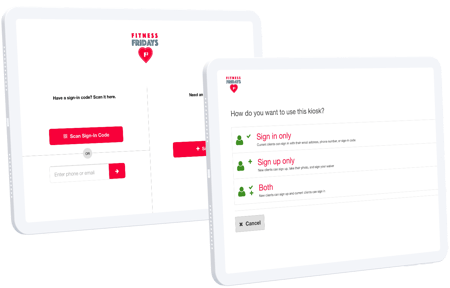 Branded to your business
We want the Kiosk to fit in with the vibe of your front desk which is why the Kiosk App can be configured with your brand's colors and logo.
The App is fully integrated with your Pike13 site. Any actions made through the Kiosk will immediately reflect in your system.
Countries where the Client Kiosk App is available
Australia
Brazil
Canada
Cayman Islands
Finland
France
Germany
Iceland
Ireland
Norway
Oman
South Africa
Spain
Switzerland
United Arab Emirates
United Kingdom
United States
PRODUCT DEMO
Experience Pike13's power first-hand with a guided demo
Schedule your call with a platform expert today!
FREE TRIAL
Start a free trial
Get started for free today and see the power of Pike13 for yourself! Sign up for our 7-day trial, no credit card required, and unlock the full potential of your business.
Plus, receive our exclusive Getting Started Guide and take your first steps with ease.