Stay Organized with Pike13's Client Management Tools
ORGANIZED, STREAMLINED, CONVENIENT
Features for your staff and your clients
An array of features that work for you with the sole purpose of making your everyday tasks easier and quicker.
Automatic class reminders and payment reminders are sent to clients via SMS or email
Empower your clients to self-manage with the powerful Client App
Mobile apps, contactless check-in, and your online store all elevate the consumer experience
Set up waitlists per service and the class automatically fills up when there's a cancellation
Clients receive important messages from their instructors instantly
Access all client information from an organized client database
Save time and resources by automating repetitive daily tasks
Embeddable, branded scheduling widget fits seamlessly into your website making booking easy
Keep track of your clients and stay connected with them easily using Pike13's client management software. Access client information, history, and preferences all in one place.
CLIENT MANAGEMENT
Keep your client info organized and secure
Manage your clients more effectively with Pike13's detailed client database. Access client profiles from any device to view their upcoming activities, account history, and any alerts.
Stay on top of failed payments and waiver issues with immediate notifications. Set up alerts for expiring memberships or recent absences, ensuring you follow up with clients before they churn.
Plus, use public or private notes to add even more detail to your client profiles.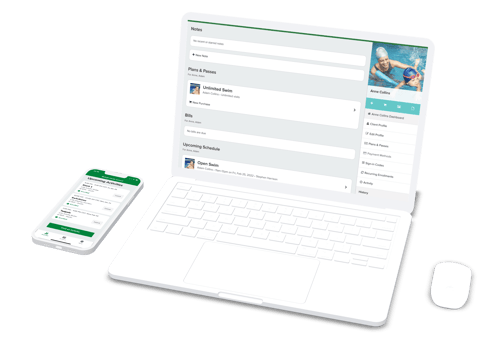 NOTIFICATIONS
Improve client communications
Staff members can add public notes to an upcoming class such as equipment reminders or location changes.
Notifications are immediately sent, making last-minute changes a breeze.
Staff members can communicate privately with other staff, improving your team's communication.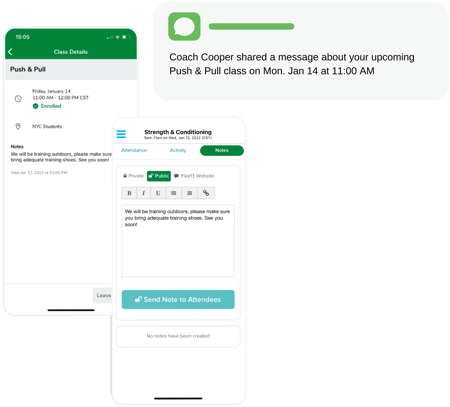 EMPOWERED
Empowering clients with self-managing solutions
Give your clients the power to manage their own schedules, plans, and payments with Pike13's self-managing solutions. With just a few clicks, they can update their profile information, upload profile photos, add dependents, and more, all from their own device.
Pike13 also allows linking dependent accounts to a guardian account, making it easy for families to manage scheduling and payments for their dependents. Plus, client profiles are automatically updated when they check-in for a class or a staff member confirms their attendance, making it easy for clients to stay up-to-date.
SCAN AND GO
Effortlessly check-in your clients
Simplify your check-in process and reduce long queues with the Client Kiosk App from Pike13. With the app, your members can quickly check themselves in using a QR code scan.
Plus, new clients can easily sign up, complete waivers, and take their photo, all within the app. The app is included in all plans, and it's free to download onto your tablets.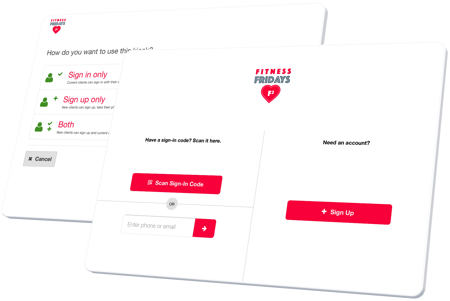 REVENUE STREAMS
Your online store: boost sales and delight members
Make it easy for your clients to buy relevant course equipment, branded merchandise, and more with Pike13's online store. You'll save on shipping costs and add a new revenue stream while enhancing the member experience. Plus, our simple checkout process and in-studio pickup options make it easy for everyone.
SITE WIDGET
Catch more bookings with our integrated scheduling widget
Make it easy for customers to book your services with Pike13's scheduling widget, fully integrated with your website.
Display your available services in a daily or weekly view and customize the widget to match your website's branding. Increase bookings with ease and convenience for your customers.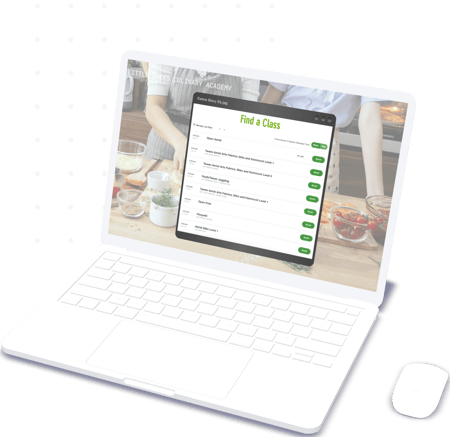 PRODUCT DEMO
View Pike13 in action during a guided demo
Schedule a time to join a quick call with one of our Pike13 experts and get to know the platform!
USER REVIEWS
What are business owners saying about Pike13?
Small business owners from all over have solved their specific pain-points with our all-in-one business management platform.
"Pike13 is awesome. Great, easy interface that maximizes the potential for our business. We have been able to manage our clients more efficiently and haven't even reached the tip of the iceberg on what we can do with the functionality."
"Really love how structured and seamless the software is and how it's made our business run much more smoothly. I would recommend this software for any sports academies looking to streamline their interactions with clients and schedules."
FREE TRIAL
Start a free trial
Get started for free today and see the power of Pike13 for yourself! Sign up for our 7-day trial, no credit card required, and unlock the full potential of your business.
Plus, receive our exclusive Getting Started Guide and take your first steps with ease.