PIKE13
Billing
Billing and payments are simple through Pike13. Clients can easily add and store payment methods, purchase passes or plans, or pay on behalf of dependents.
You have convenient access to invoice records through built-in financial reporting that allow you to account for each dollar.
AUTOMATED, SELF-MANAGED, STREAMLINED
Features for your staff and your clients
An array of features that work for you with the sole purpose of making your everyday tasks easier and quicker.
Give your members the option to set up automatic billing, ensuring your revenue stream
Pike13 follows operational standards to secure and protect all credit card data
Automate payment collection with automatic reminders sent to clients
Once a transaction is received, a digital invoice will be automatically sent
Pike13's billing systems are 100% guaranteed by Celero and the platform has 99.9% uptime
Your members are able to make payments in the way they prefer
Set up clear booking policies with associated no-show or late cancel fees
View any client's entire payment history and review closed invoices
Automatic notifications alert you to any payment issues so you can follow up before it affects your bottom line.
SECURE BILLING
Get paid, anywhere
Increase client retention and convenience with weekly or monthly recurring payments. Pike13 securely stores credit card information so clients can easily purchase passes or plans through Pike13.
Clients are automatically reminded to update their information when the stored card is expiring. They are also notified immediately – and so are you – if a payment fails.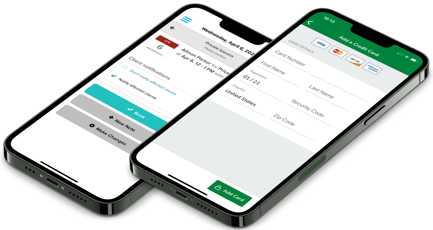 SELF-MANAGED
Empower your clients
Clients are able to manage their own payments so that you and your staff don't have to. They have access to their memberships or schedule anytime. They can add credit cards to their account, purchase passes or plans, and see billing history through Pike13.
Payments for members are supported through our free Client App. With Pike13, access to your services is always convenient.
PRODUCT DEMO
View Pike13 in action during a guided demo
Schedule a time to join a quick call with one of our Pike13 experts and get to know the platform!
BUSINESS REPORTS
Access your most important reports
Built-in financial reports ensure that you can account for each dollar. See detailed data on transactions, invoices, and account activity. Receive alerts for failed payments and expiring cards. And upgrade to Premium Reporting for even more robust insights and KPIs.
All of your invoices and receipts are securely stored on the Pike13 platform. Access and manage your financial reports on-the-go through the included Staff App.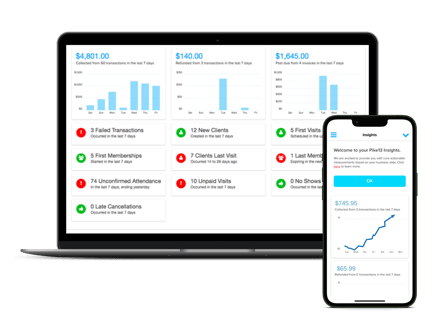 With Pike13, you are able to set up automatic discounts, set up prorated accounts, and determine how long make-up sessions will be valid.
TIME-SAVING
Automated billing tasks
Save time and effort with one of 28 automated features Pike13 has to offer. Set up automatic invoices to be sent such as when a new client enrolls or when a payment is received.
Access and review all invoices in one organized, centralized location.
FREE TRIAL
Start a free trial
Try the platform free for 7 days, no credit card required! See what we're all about plus receive our complimentary Getting Started Guide.