PIKE13 FITNESS
Fitness and Gym Management Software
Pike13 software is clean, intuitive, and built for the on-the-go fitness professional. You're able to access schedules, client profiles and reporting from any mobile device.
And with 99.96% uptime, Pike13 is the most reliable scheduling software available for fitness studios.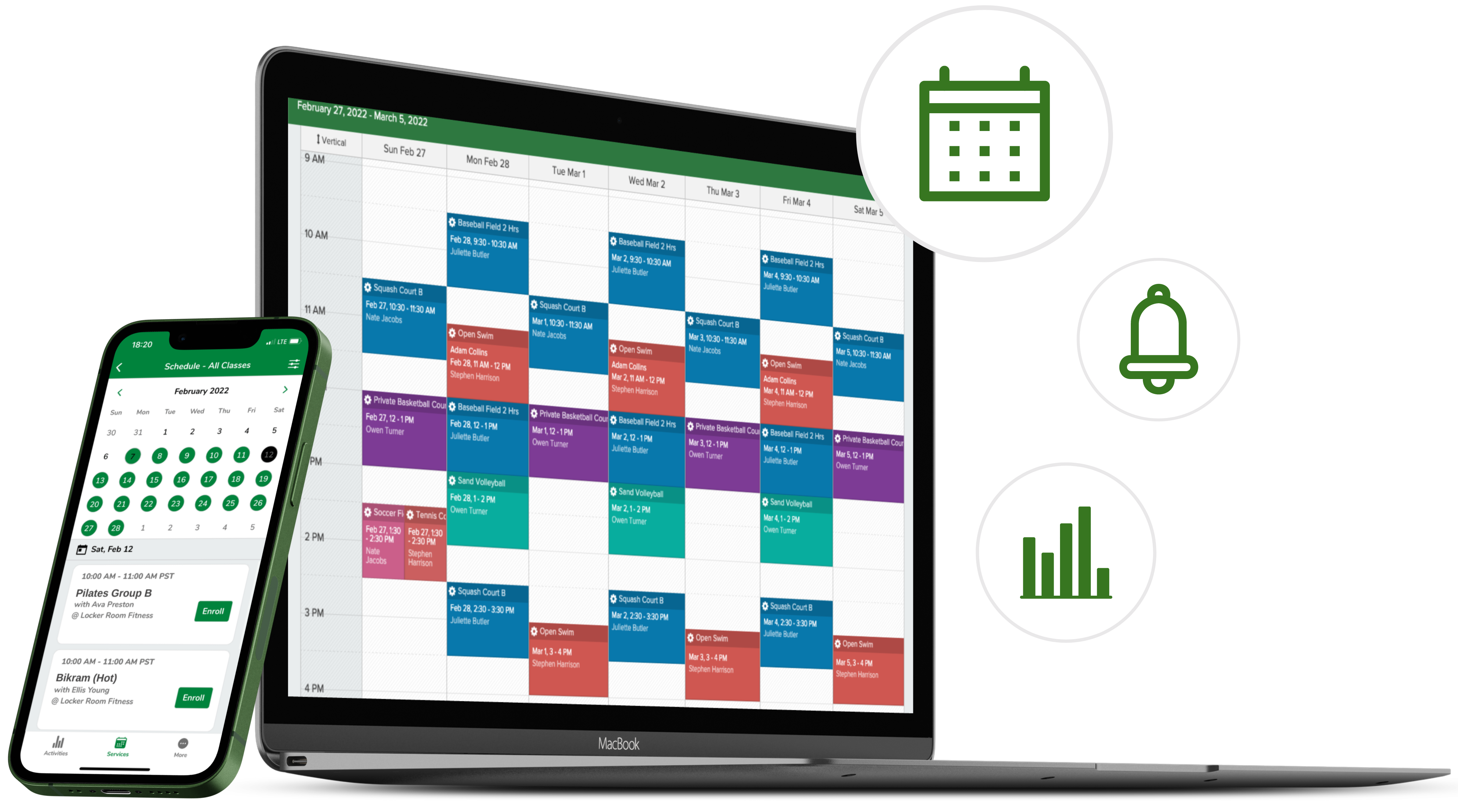 CONVENIENT, RELIABLE, INTUITIVE
Features for your staff and your athletes
An array of features that work for you with the sole purpose of making your everyday tasks easier and quicker.
Empower your clients by providing an easy way to enroll in your fitness classes from their preferred device
Improve your revenue streams by letting clients pay online and enroll in recurring billing
Send emails for class reminders, billing reminders, payment receipts, and more
View all of your staff's schedules, availabilities, and performances from one location
Set up waitlists to automatically alert clients when a spot opens in their desired fitness class
Sell fitness gear, branded merchandise, and even snacks all from your Pike13 site
At 99.9% uptime, an industry best, Pike13 ensures your fitness business keeps running smoothly
Embeddable and branded scheduling widget fits seamlessly into your website encouraging web traffic and easy booking
FINTESS AND GYM SCHEDULING
All of your schedules, organized
Pike13 streamlines the administrative processes that you use to run your day-to-day business. It's fast and easy to set up new services. You can access schedules, client information, and reporting from any desktop or mobile device.
The Staff App allows you and your instructors to enroll clients, track attendance, document client information and progress, and sell merchandise. Whenever you need it, Pike13 is conveniently there.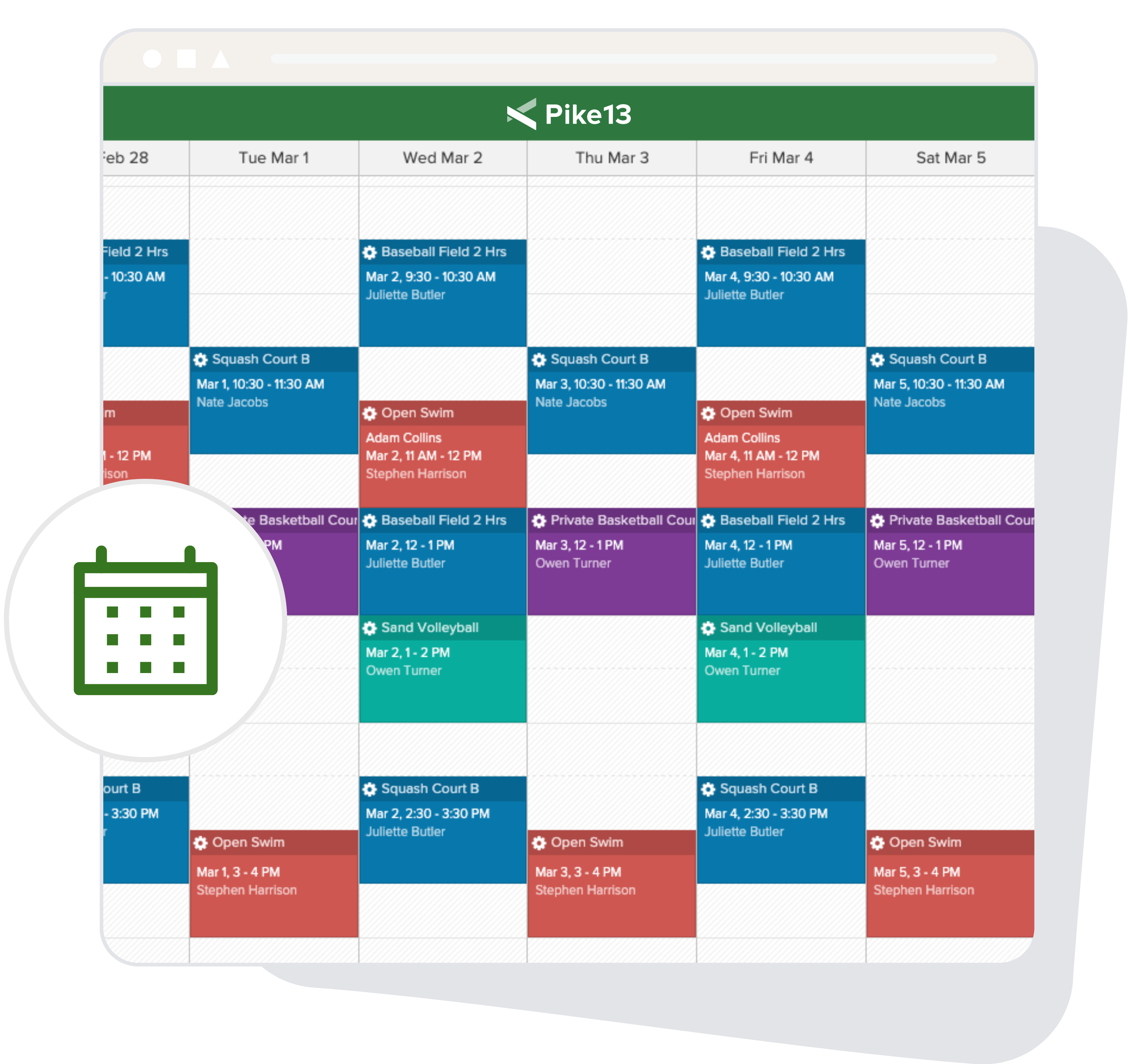 BUSINESS REPORTS
Business decisions, simplified
Robust reporting tracks the client and financial KPIs that keep you informed on the health of your business.
Pike13's Insights gives you the tools to analyze and improve your fitness class offerings, along with the ability to easily track your staff hours, performance, and workload.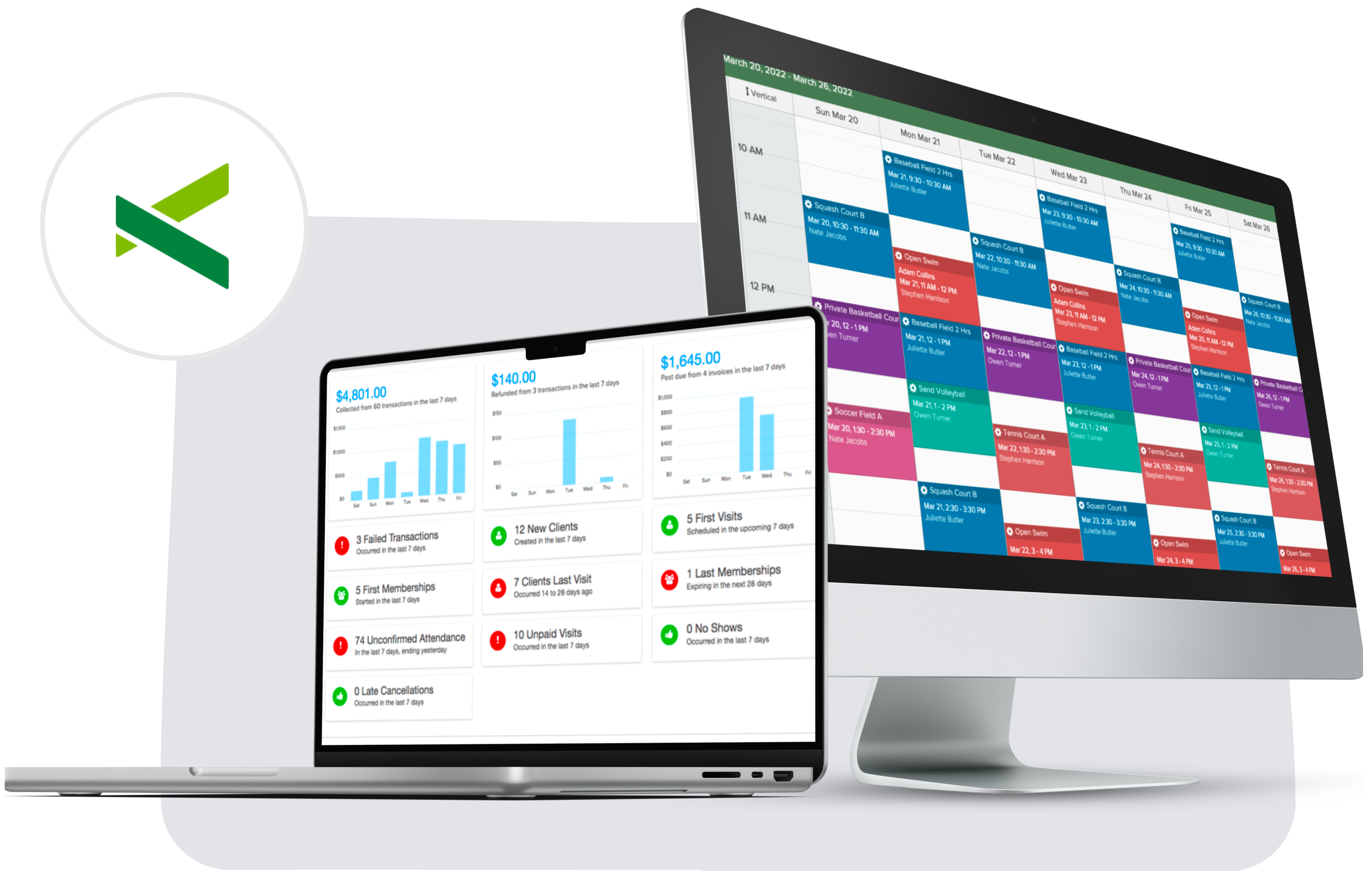 CLIENT MANAGEMENT
Detailed student database
A student's entire visit history, upcoming events, stored payment methods, QR codes, open and closed bills, and important notes are all found within their client profile.
Staff is able to access client information from desktop and on the Staff App.
PRODUCT DEMO
View Pike13 in action during a guided demo
Schedule a time to join a quick call with one of our Pike13 experts and get to know the platform!
MOBILE
Apps for everyone
Elevate your clients experience through the Client App where they can enroll in fitness classes, book appointments, purchase plans, and make payments.
Make your staffs day easier with the Staff App where they are able to book clients, check clients out, sell plans, take attendance, and more - all from their phones.
FREE TRIAL
Want to try out Pike13 on your own?
Try the platform free for 7 days, no credit card required! See what we're all about plus receive our complimentary Getting Started Guide.
GROW WITH PIKE13
No cross promotion
We know that you're protective of your clients. That's why we'll never cross-promote businesses on the Pike13 platform. When your clients log into Pike13, they'll see only your services.
You also don't ever have to worry about paying for growth. No matter how many clients you gain at a location, the price for your Pike13 site remains the same.
IN-PERSON AND VIRTUAL
Streamline the virtual process
Pike13 integrates with Zapier to support virtual lessons. Create Zaps to automatically generate links to virtual classrooms in Zoom, Facebook, or any other streaming platform. The link and any subsequent update are automatically shared with enrolled clients.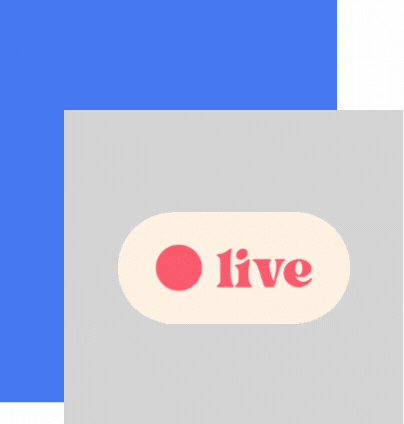 USER REVIEWS
What are fitness business owners saying about Pike13?
Small business owners from all over have solved their specific pain-points with our all-in-one business management platform.
"Pike13 has been a great platform for our gym so far. With it, we are able to run all of the necessary reports that we need to keep track of to stay on top of our business metrics and our clients. Total game changer."
"We are a small gym so I'm the owner, the operator, and the person handling all things Pike13. It's so reassuring knowing I have their awesome support team as a lifeline to help me out when and if I need it."
"This software allows us to automate processes that normally take hours of labor. Best user interface on the market. None of their competitors come close to the end user experience like Pike13 does."