Business Management Solutions for Fitness Professionals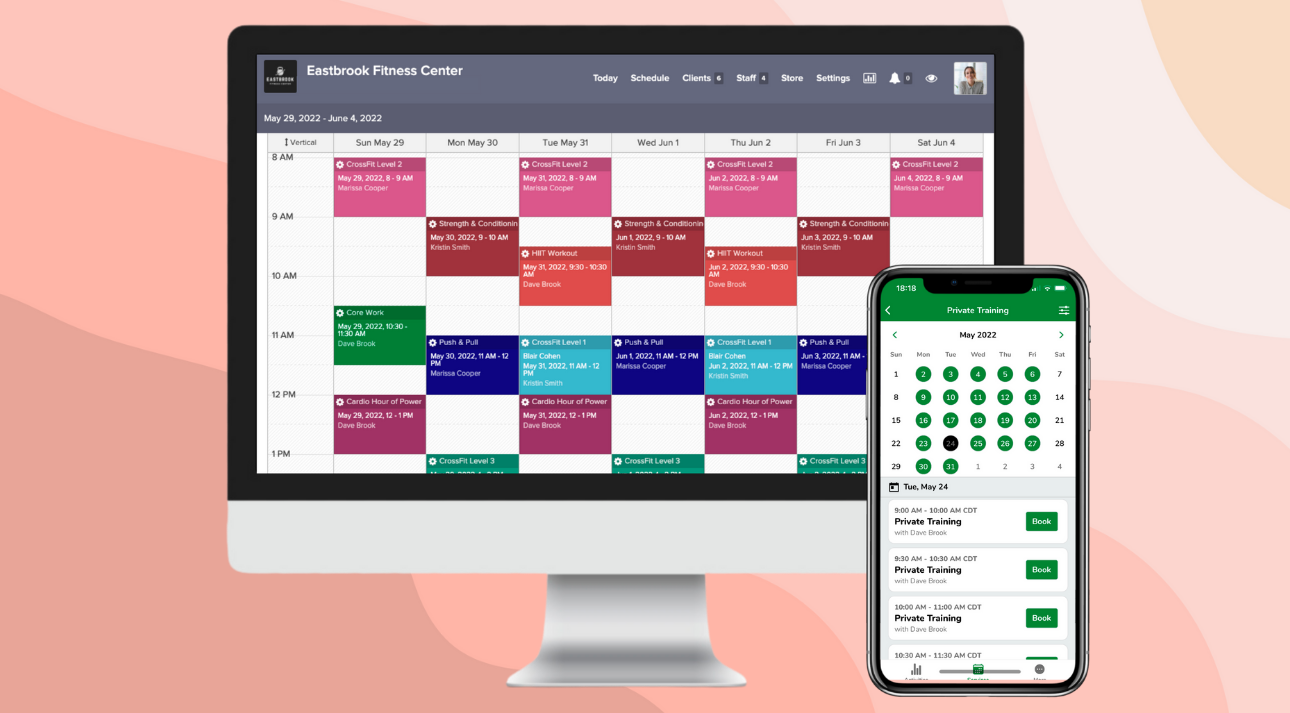 Fitness studio management
Pike13 brings together membership management, plan enrollment, creating and editing schedules, and many other admin tasks onto one concise, easy-to-use platform.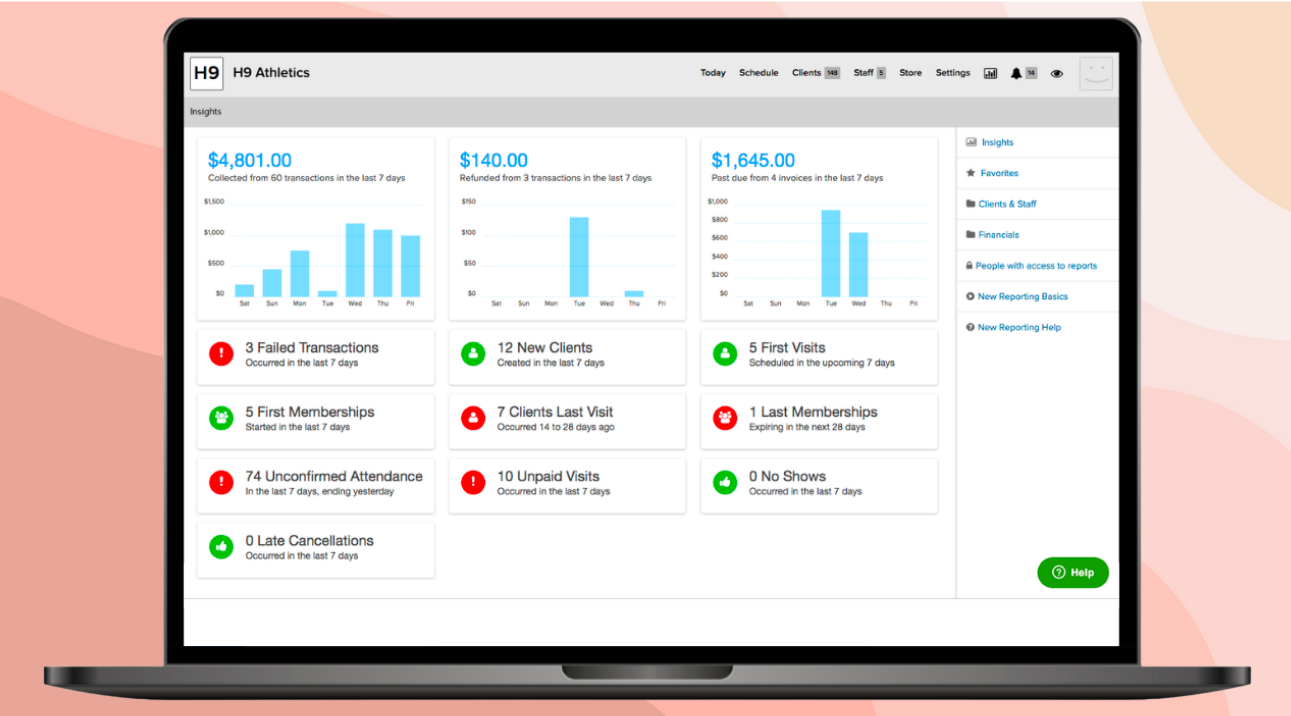 The reporting dashboard keeps you informed
Keep track of your important business metrics with Pike13's comprehensive report generation. Get detailed views of staff and class performances so you're always a step ahead.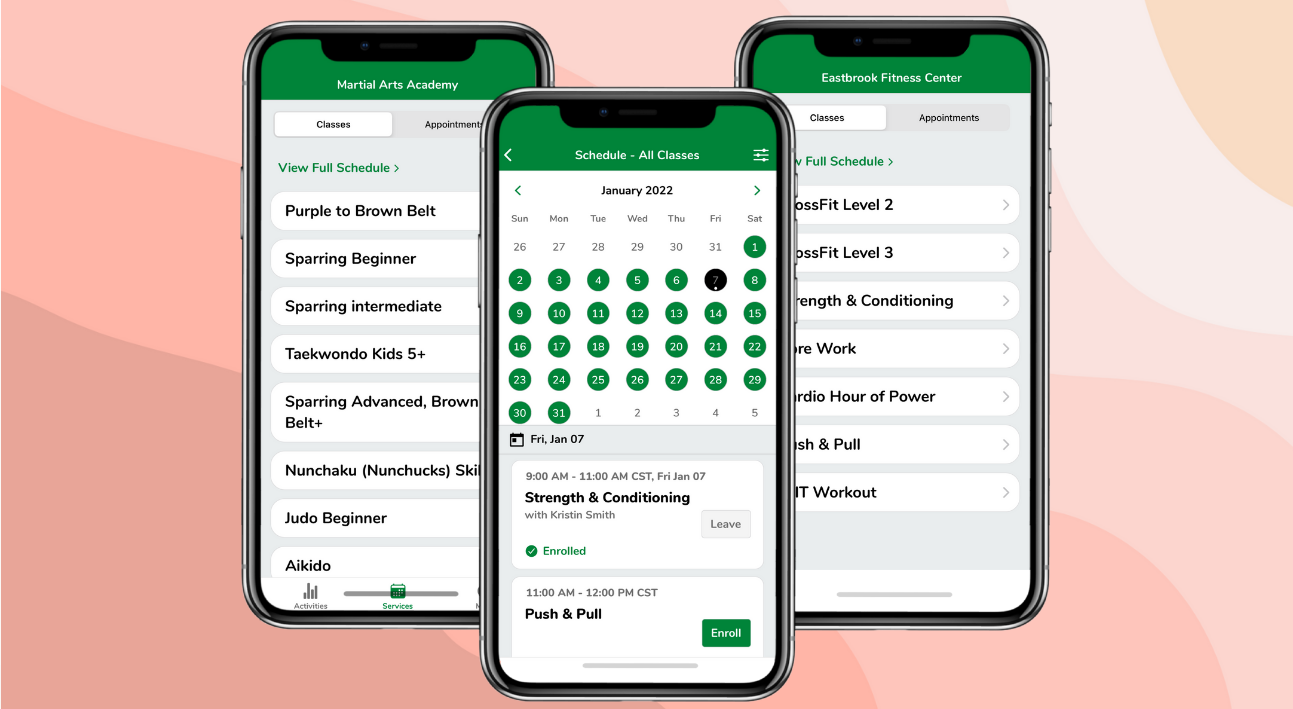 Bring your services to your clients
Increase your bookings by bringing your business to where your clients are, in the palm of their hands. From the included Client App, members can search for classes, book appointments, purchase plans, securely store payment methods, enroll in recurring billing, and more.
Public and Private Notes Feature
On the app or on the desktop site, adding a Note is a quick and efficient way to communicate with your clients instantly.
INSTANT COMMUNICATION
Have a last-minute change to an upcoming class? Need to remind your enrolled students to bring special shoes to the next class?
The Public Notes feature is a quick way to communicate with all of your clients at once, from any device.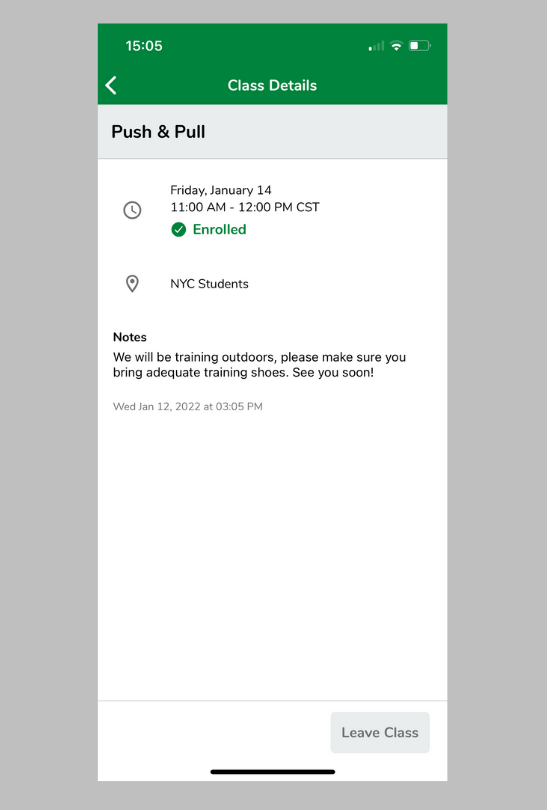 PUBLIC NOTES
From any preferred device, you and your staff members can add a Note to an upcoming class - whether it's a reminder of equipment to bring, a waiver that needs to be signed, a change of location notice, or anything else your class needs to know.
AUTOMATIC NOTIFICATIONS
Immediately after your staff member publishes the Public Note, all enrolled clients receive a notification, ensuring that everyone who needs to know something, is updated.
Communication is efficient and easy through the Notes feature.
PRIVATE NOTES
Improve inter-staff communications by leaving Private notes in your Pike Site and on the Staff App. These notes can be reminders, lesson thoughts, points to hit next session, and any other important thoughts that are only seen by other staff members.
The Private Notes feature is a safe and easy way to relay information within your team without added paperwork.
Schedule a Product Demo
Book time to speak with a Pike13 expert about your specific business needs and get to know the platform.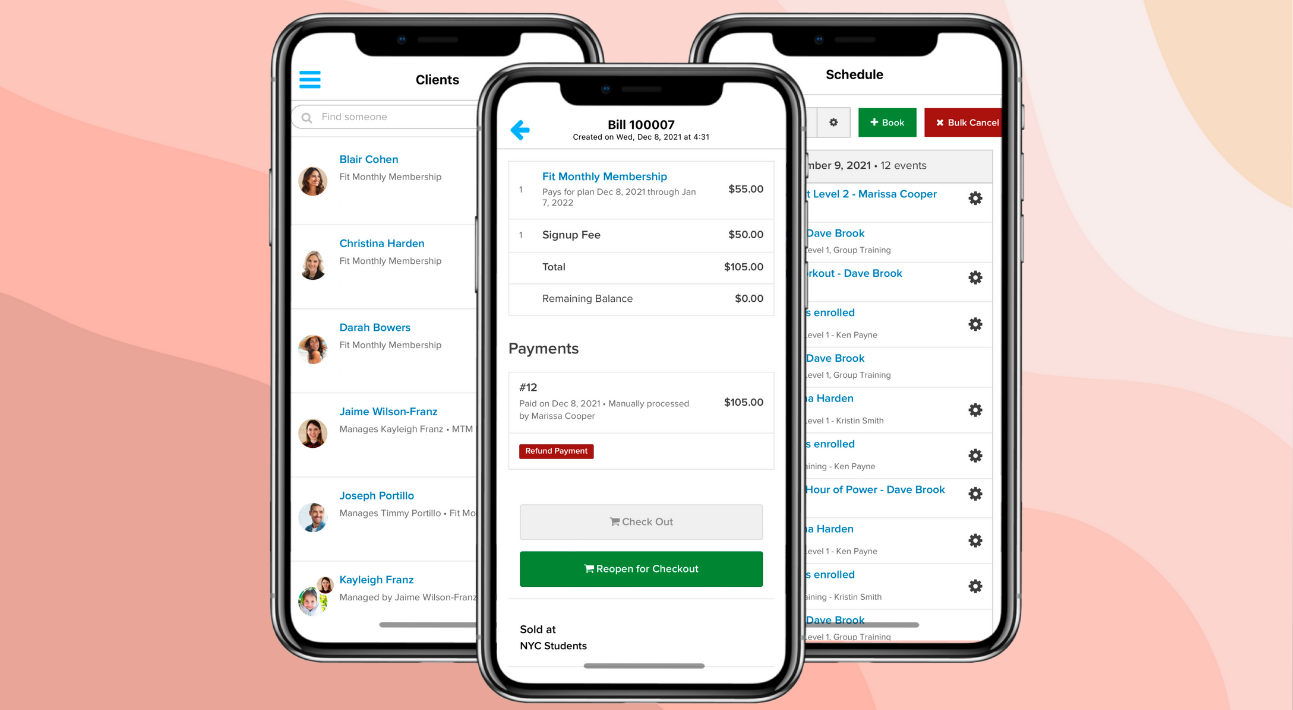 View membership details
The Pike13 platform enables you to pull up any client record easily from your preferred device. With the Client App, you will know your clients' timeline, follow their progress along with them, adding that special touch. Active engagement with your customers encourages client retention and satisfaction.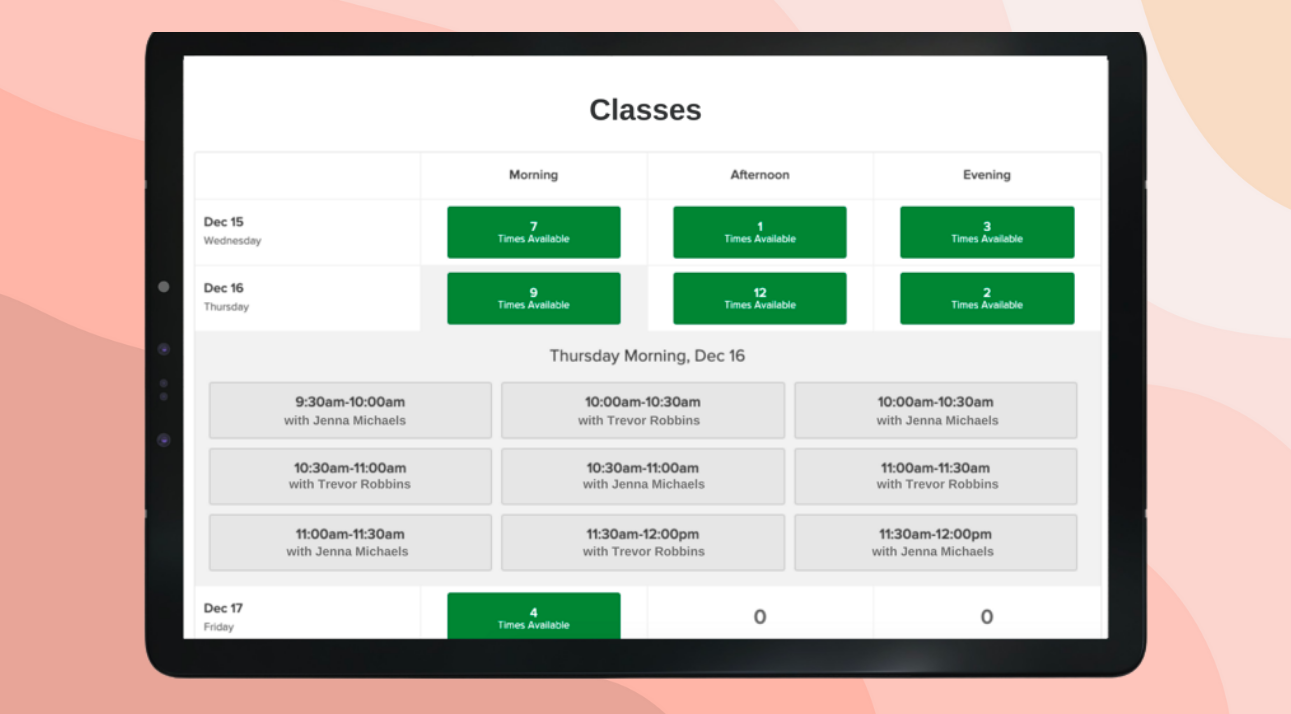 Simplify the booking process
Make your fitness services readily accessible by integrating a branded scheduling portal on to your website. Members can browse classes, view open slots, and book their classes without ever leaving your website.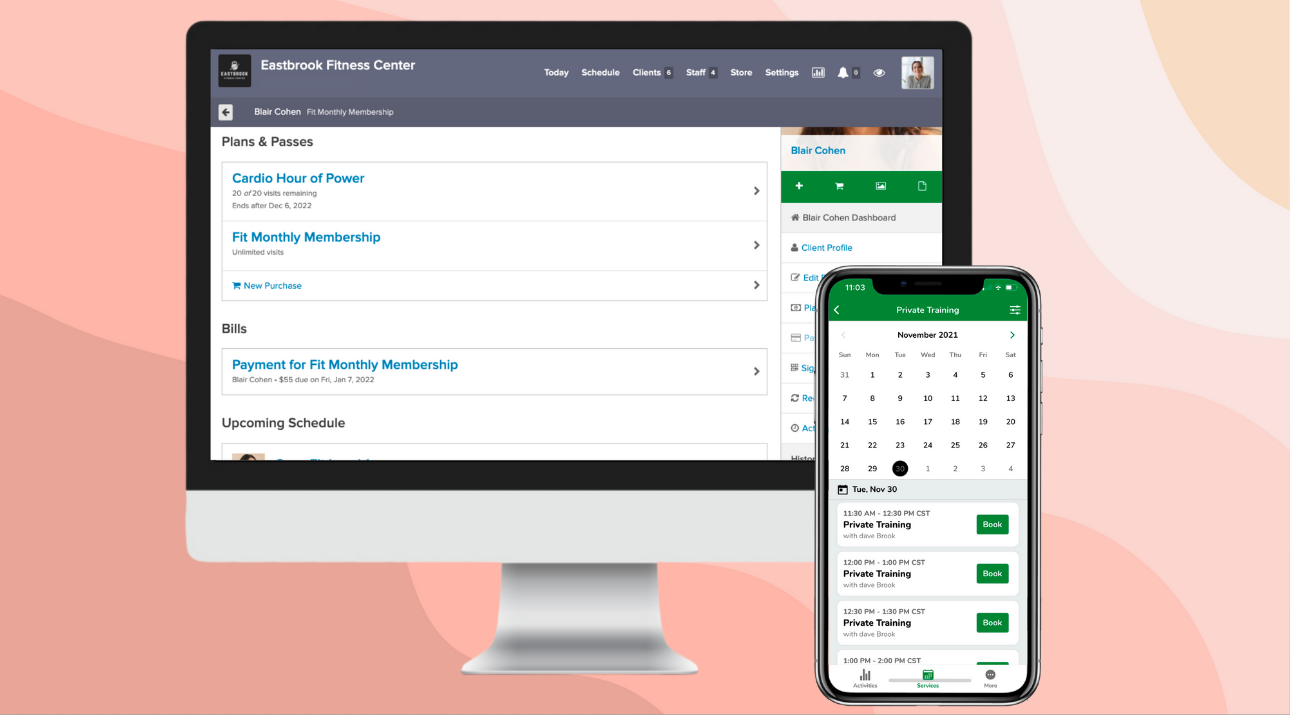 Let your business flow smoothly
Clients are able to self-enroll online or on the Client App, your staff is able to pursue leads and book clients themselves through the Staff App, view and modify their upcoming schedules, and you, the owner, are able to take back the time previously spent on all of that admin work.
Enhance Your Pike13 Experience
We are constantly adding special features that boost our clients' services and strengthen their brand such as skill tracking, your very own Branded App, and premium reporting. Scroll through to learn more!
MYSKILLCHART
Improve and personalize instruction for your students by tracking their progress on our MySkillChart platform.
Instructors assign a skill with an example video with proper form, students practice and upload their skill videos then instructors provide individual feedback.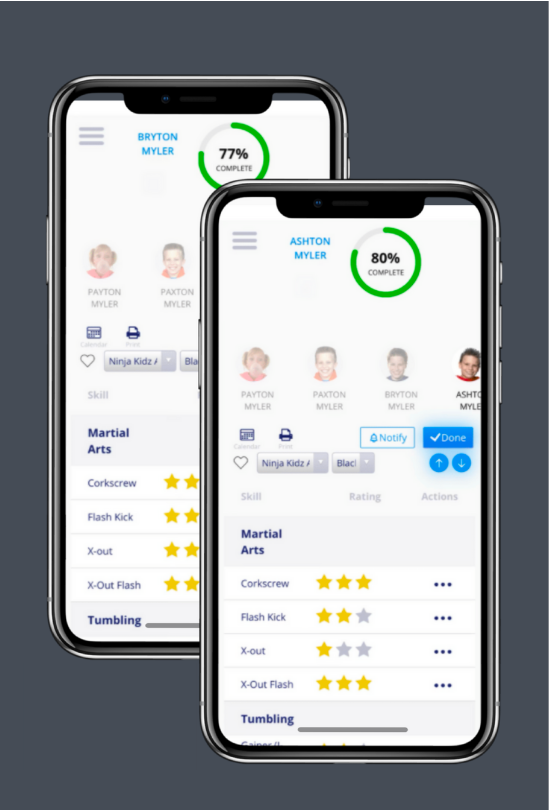 LOOKER
Powered by Looker, one of the top intelligence tools available, Pike13 is excited to offer a Premium reporting option that supplements our Insights reports.
Premium Reporting provides powerful data visualization tools to help you make smart, data-driven decisions.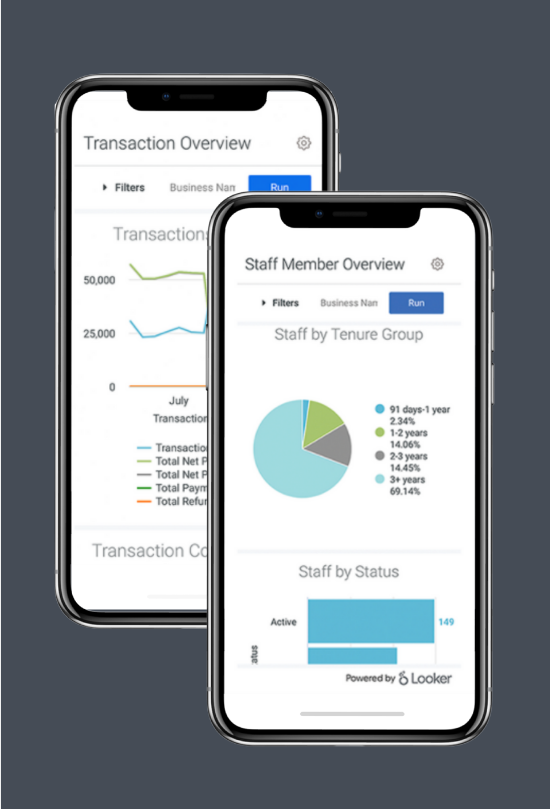 BRANDED APP

Stand out by having your own mobile app for your clients. It is the entire functionality of Pike13 but with your colors, your logo, no cross-promotion, only your business. Client payments are securely processed through the app.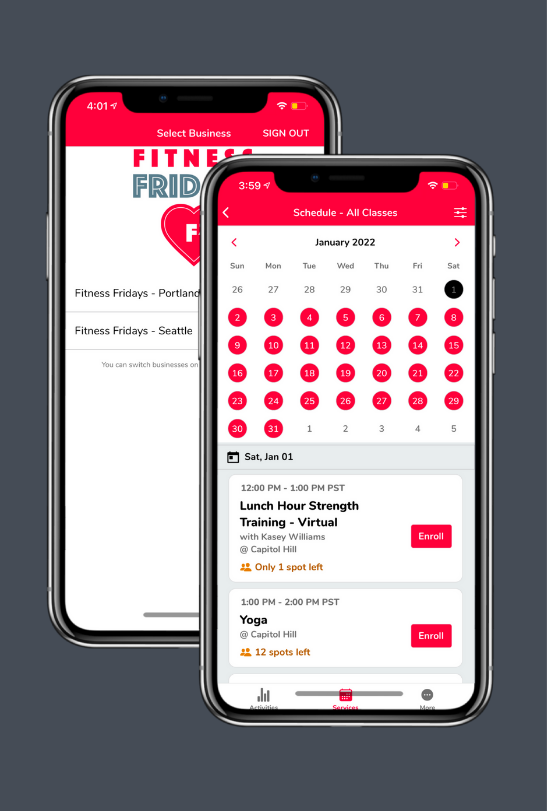 Schedule a Product Demo
Book time to speak with a Pike13 expert about your specific business needs and get to know the platform.
"Pike 13 is a great platform for our gym - we are able to run any and all necessary reports that we need to keep track of, with Pike13 we stay on top of our business metrics and our clients!"

Michael W. - Client
"It's easy to check-in clients and leave note after lessons, it has my schedule laid out for several weeks in advance, and gives me notification when my schedule changes."

John C. - Client