SCHEDULING AND CLIENT MANAGEMENT SOFTWARE
Automate your tasks and grow your best business
Pike13 gives the small business owner tools for their staff to better manage their day and tasks while also providing their clients with an elevated brand experience.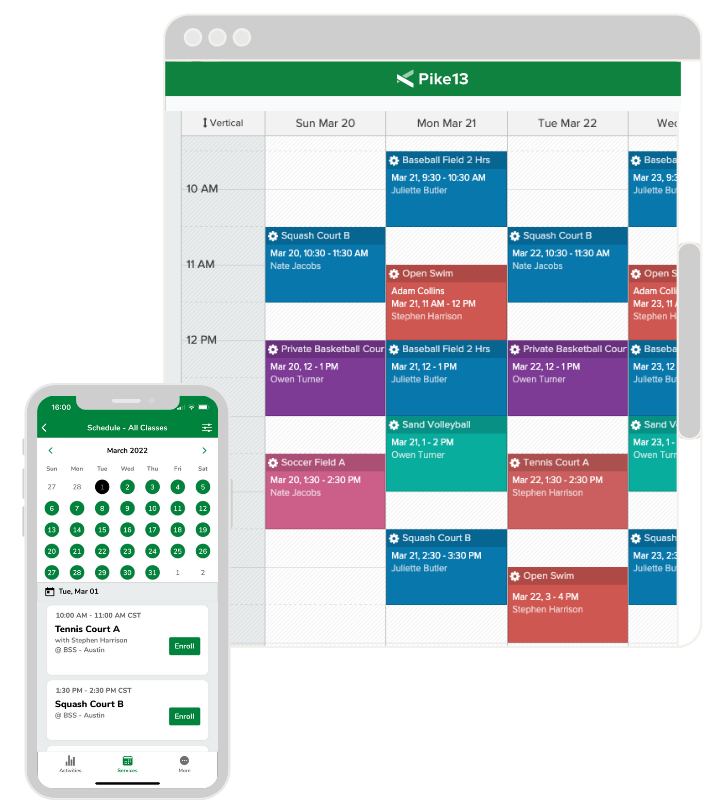 POWERFUL FEATURES
Trusted scheduling and client management software for your small business


Scheduling
Clients can enroll in classes, courses, appointments, and camps. Schedules can be managed from any device.
Client Management
Create client profiles, store waivers, send notifications, reminders, and manage client payments.
Billing
Clients can set up one-time or recurring payments. Missed payment warnings prevent revenue leaks.
Reporting
Built-in client and financial reports measure the health of the business and help you make smart business decisions.
Free Client App
Life doesn't happen behind a desk. Give clients easy access to your schedule through a free mobile app.
Apps & Add-ons
A variety of tools and integrations power up Pike13 to help you seamlessly run every aspect of business.
PIKE13
A solution to stress
Is administration getting in the way of actually running your business? Do you spend more time behind a desk than you do with your clients?
We can help. The cloud-based Pike13 scheduling and client management platform is simple and easy to use. Let us take some of the administrative burden so you can get back to your clients.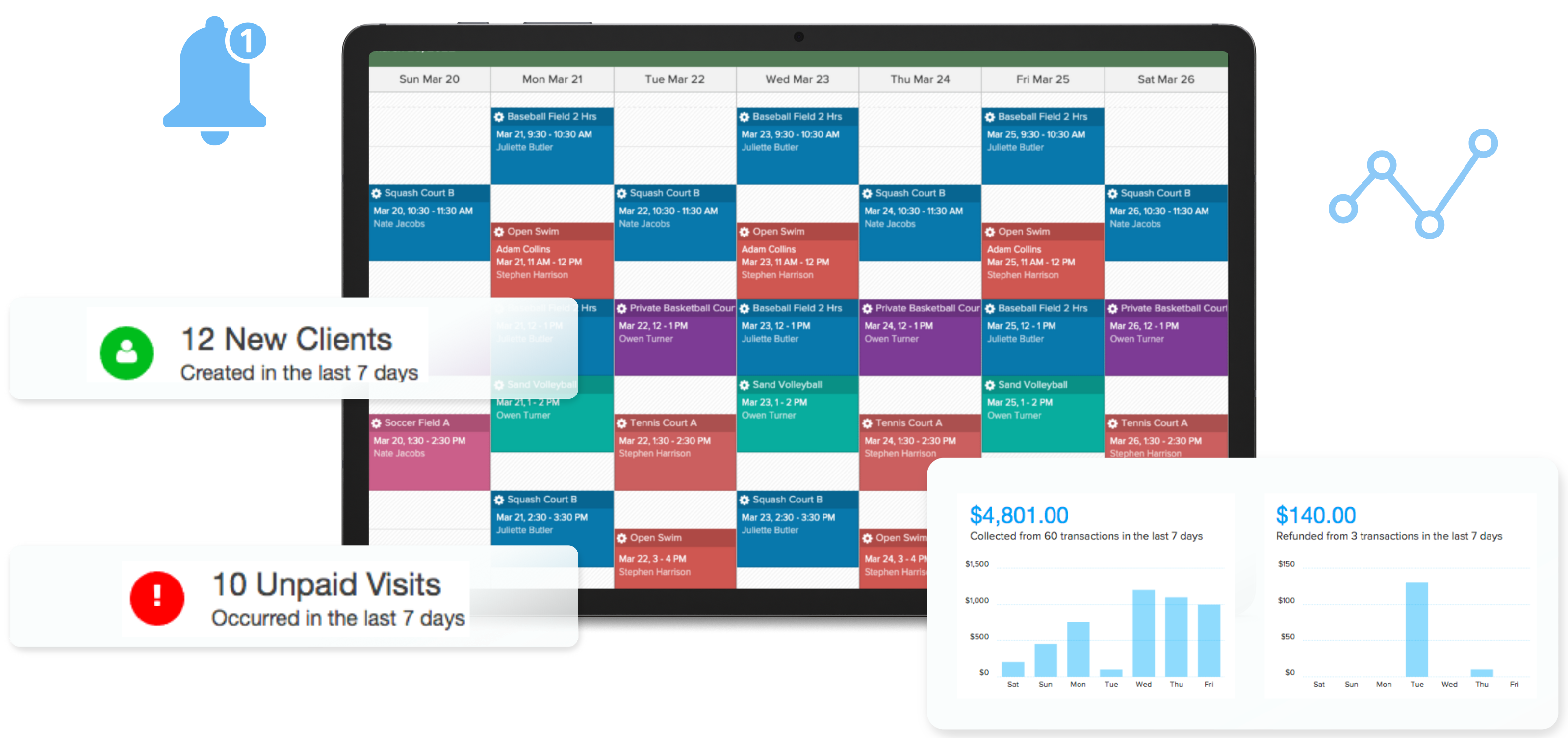 Single-business or franchise models that teach swim fundamentals to kids of all ages with multiple classes
Single-business or franchise models that teach how to play an instrument or give voice lessons
Single-business or franchise models with multiple classes, rooms, dance-types, and age groups

Single-business or franchise models with multiple age groups, skill types, and workout spaces
Single-business or franchise models with multiple classes, age groups, and classrooms
Single-business, franchise models, or personal trainers with multiple offerings and time slots

Single-business or franchise models with multiple offerings, instructors, and studio spaces
Businesses with a need for reserving a time-slot, rooms/courts/fields, and more
Pike13 is proud to serve a wide array of business types, check out the variety!
Let's reach your business goals, together.
Streamline your processes by automating manual tasks. Work smarter by saving time and energy on individual tasks and entire workflows - freeing up your team's energy to focus on what's important.
Alerts and Notices
Confirmation Emails
Private Notes
Reminder Notifications
Customizable Pay-Rates
Tiered Bonuses
Recurring Passes
Automatic Emails
Invoices and Billing
SKILL TRACKING
Introducing a better way to track students over time
Engage your students, keep parents happy, and save time with MySkillChart. MSC is an online skill tracking platform designed to improve and personalize skill instruction while providing real-time updates to families!
LEARN MORE
USER-FRIENDLY
The tools you need
Pike13 software is simple because you don't need complicated. Our user-friendly interface offers everything you need to run your business your way, and cuts out all the other noise that makes administration confusing and time-consuming.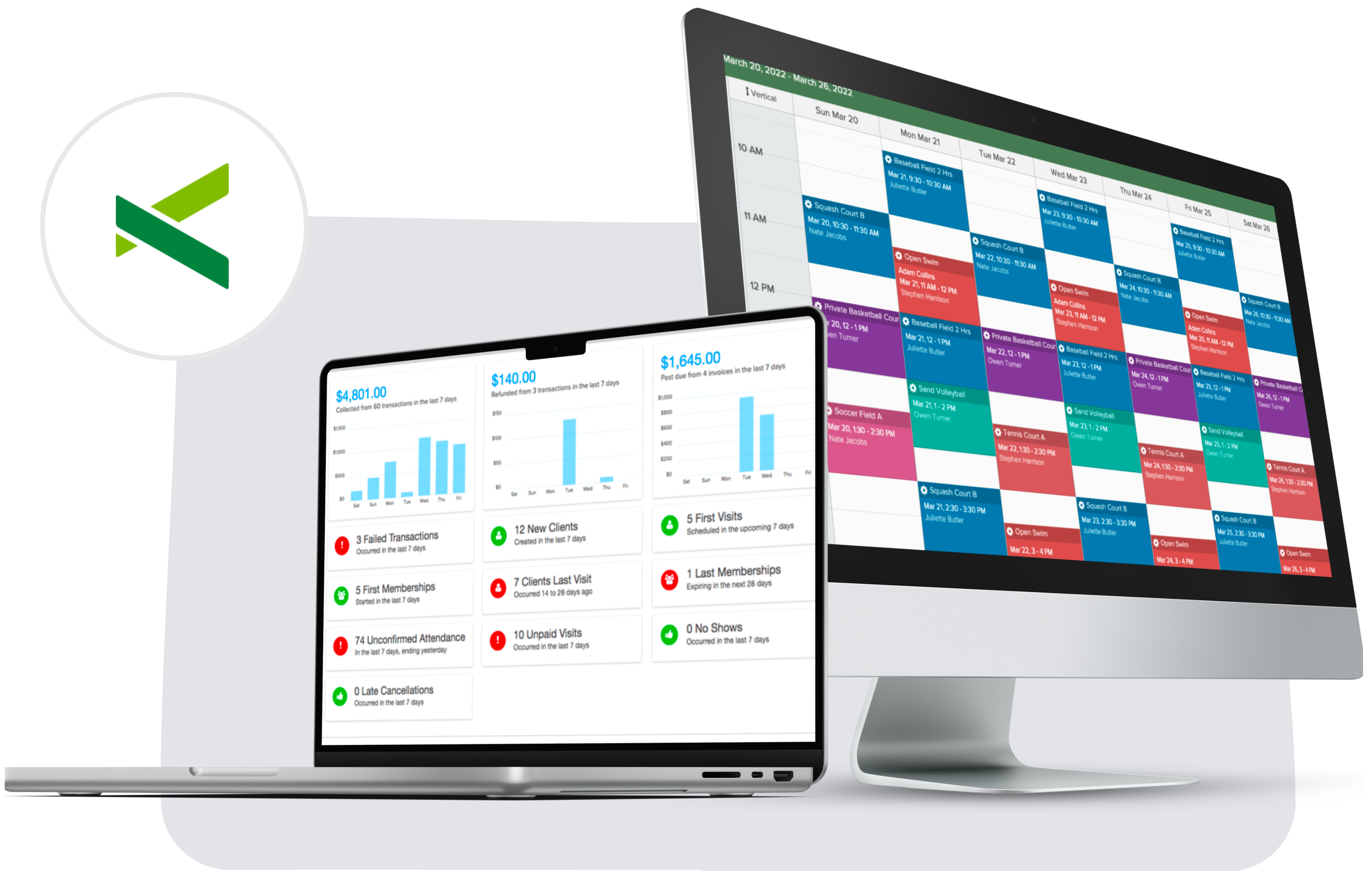 The service you want
When you need help, we're right here for you. All the software functionality in the world means nothing if the company backing it up isn't reliable. Pike13 doesn't just boast 99% uptime for our servers–beating out our competitors by a mile–we also offer the best customer support in the industry.
PRODUCT DEMO
View Pike13 in action during a guided demo
Schedule a time to join a quick call with one of our Pike13 experts and get to know the platform!
USER REVIEWS
What are business owners saying about Pike13?
Small business owners from all over have solved their specific pain-points with our all-in-one business management platform.


The system is dependable and the support is really excellent. They know the system and their response and resolution to issues are some of the best I've ever experienced.
I love Pike13 and my clients really love it too. It's easy to set up services and plans, overall ease of use is fantastic. It's very responsive, and I like the business app. It saves me a lot of time!
I've been using Pike13 for years now and I'm completely happy with the product. I have total flexibility creating different plans and packages for the services we offer to our clients.
CURRENT USERS
Log in to your existing Pike13 account
We've moved some things around to make our site more accessible, please log on to your Pike13 site by clicking the button to the right.