Legacies are a touchy subject and are packed full of emotion. For Kirsten McQuat, taking over ownership of Ward School of Dance was an effort in inheriting one legacy and creating her own.

When Kirsten started dancing at the age of three, her family had no idea how dancing would influence the course of her life. Like most students, after spending 8-10 hours a week at Ward School of Dance, the studio became a second home. In the beginning, the school was run by two Joan's—Joan Ward and Joan Lienau. The two Joan's taught her the foundation of dance and sparked a passion that burns to this day.

Pursuing a passion

After 13 years in dance classes, Kirsten became an assistant teacher, and later an instructor. Teaching dance helped her pay her way through college, and by specializing in child and youth development she has been able to approach young dancers in a unique way.

There was no surprise when Kirsten jumped at the opportunity to take over ownership of Ward. Kirsten was a natural fit given her passion for dance and the growth of all their students. Taking over a well-established brand is difficult and doing it in this specific community might have been intimidating, but for Kirsten it felt natural. After all, this was family. (We can't help but note there are two Kirstens now running the school, just as there were two Joans running it previously.)

Struggling to grow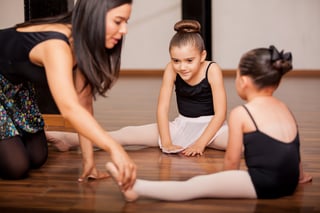 The first thing Kirsten needed to do was make a few changes. Ward had been around for over 40 years and the processes reflected that. Scheduling staff, booking clients and managing the finances were all still managed with pen and paper.

Determined to bring everything into a manageable system, Kirsten found the best software available. For four years, they worked with that platform, trying to build the business and create efficiency. Kirsten struggled to find time for all the necessary work from managing the finances, to updating paperwork and still teaching classes.

In those four years, many schools opened in the city–three schools grew to fourteen. Despite the heavy competition, Kirsten wanted to grow. To do that she set out to streamline her business as much as possible. Anywhere she could make administration easier would free up time to focus on growing the enrollment.

Finding the right solution with Pike13

Moving to the Pike13 platform to facilitate ease had been on Kirsten's mind for awhile. The software Ward had was cumbersome. Kirsten spent an extraordinary amount of time handling her employee's questions and working around features the software didn't have.

These are worries of the past. With Pike13 at her side, she is better equipped to communicate with parents and employees understand the software. "The program was such a fantastic upgrade! We could figure out how to do new things easily," recalls Kirsten, "I really appreciate the time I save not having to answer the daily questions from staff."
"The program was such a fantastic upgrade! We could figure out how to do new things easily."
With less time spent dealing with the software, Kirsten can use the newly found three to four hours a week to focus on improvements for Ward. She's increased enrollment in classes, which will allow them to make the move into a new, improved space. Ward has been around for decades, and Kirsten knows the importance of keeping the brand fresh. She's investing more in the curriculum and creating continuity so that students have clear expectations on the skills necessary to move up in a dance style.

It's also helped Kirsten balance work life and home life. With less time spent on the administrative side (and less worries), she finds it easier to leave the office and spend more time with her family.

Easier for everyone

Ward has also changed some of the ways they handle their business. Because of Pike13 they've been able to ease the process for the parents of students. For example, they now have the ability to send over details via the software so that parents don't have to come in to sign up their child. Kirsten especially was surprised by how much she appreciates the purchase request feature: "I love that feature! Just absolutely love it!"

Now Kirsten is looking to learn more about online marketing, and how to build relationships and keep her current clients. She looks to Pike13, who helped her streamline so many activities, to help her understand the best practices of other small businesses.

Confidence in the future

In the end, Kirsten is confident about Ward and using Pike13, "we're on the right path, we're making the right choices and we've got the right software with Pike13." Words that a business owner hopes to say every day.